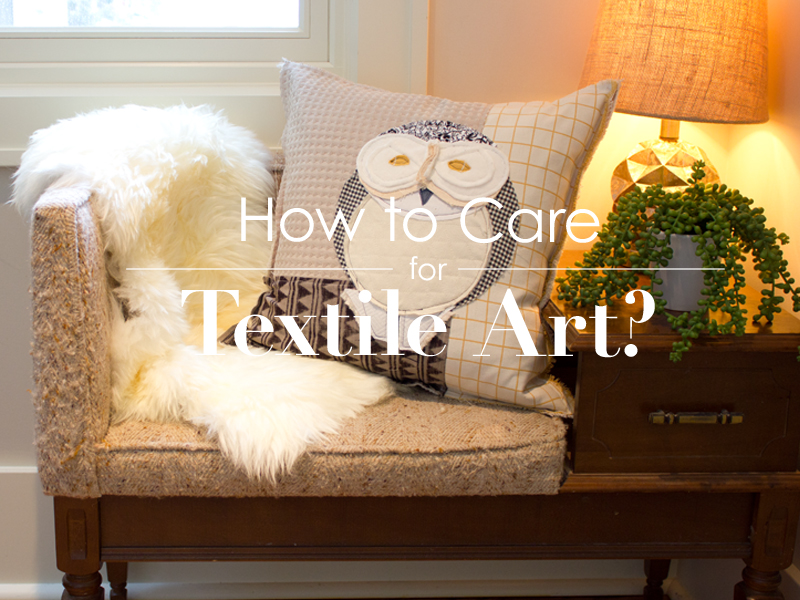 Textile art can be a little tricky. Although this medium has been around for thousands of years people aren't always familiar with textile art and what are the best ways to care for it. Whether the piece is a wall hanging, an art pillow or a soft sculpture there are some basic rules you should follow when displaying your textile art.
Keep it out of direct sunlight and fluorescent lighting. Like most pieces of art, sunlight is a harsh mistress. The power of those UV rays can be quite harmful to textiles. At best it will cause discolouration and fading and at worst it will dry out and speed up the decomposition process of the fibres.
Ensure proper air circulation. Unlike paper or canvas, textiles need to breath. Keep your fibre hangings happy by leaving the glass off when framing or include vents in the sides. For sculptures, a enclosed glass case helps keep the work safe from water, hands and dust but does need vents to encourage air flow.
Keep away from heat sources, like fireplaces and radiators, and display at normal room temperature, 18-23C, in an area without high humidity. Meaning find another piece of art for the bathroom!
Avoid contact with liquids. If someone got a little trippy at your last dinner party and If the piece must be cleaned, spot clean with water, and if necessary, a diluted mild detergent.
If you follow the basic rules of care your textile art piece will be a treasured heirloom you can pass down through generations.
Check out my follow up post on How to Hang your Textile Art to get my tips on how best to display your piece.