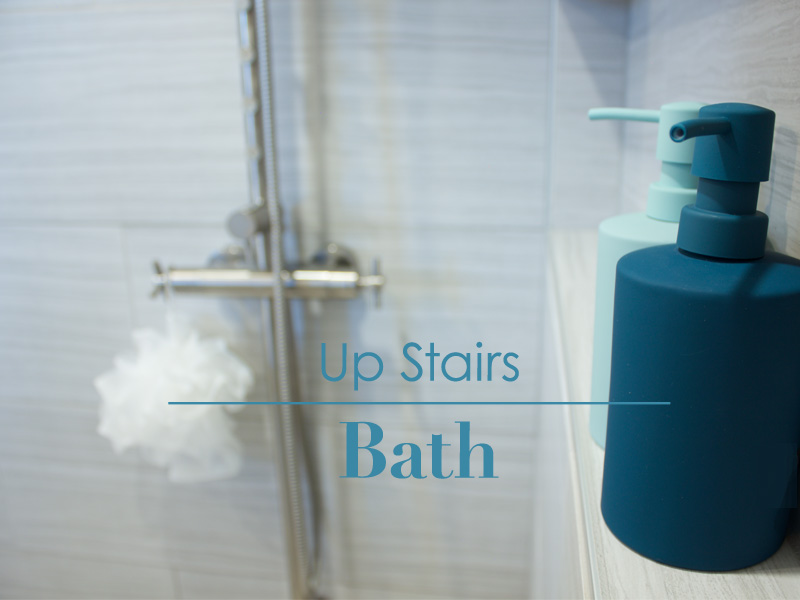 The bathroom may well be the smallest room in your home but I think it has a tremendous impact on how you feel and approach your day. Home has the power to lift us up and I wanted to have that loving feeling every time I stepped into the commode, even if it was only for a few minutes at a time. Light bright and spa-ish were the plan and we were going to do that while not moving any fixtures and keeping the existing tub and vanity. Really is was a simple resurfacing job with one small caveat, adding a shower where a closet use to be.
The original room was a standard 60's bungalow bathroom that had gone through a reno in the 90's and for some reason had lost it's shower. The previous owner did install a deep soaking tub instead, which was great I love a good bath. But who has the time to do all their daily washing in the tub, a good shower was needed.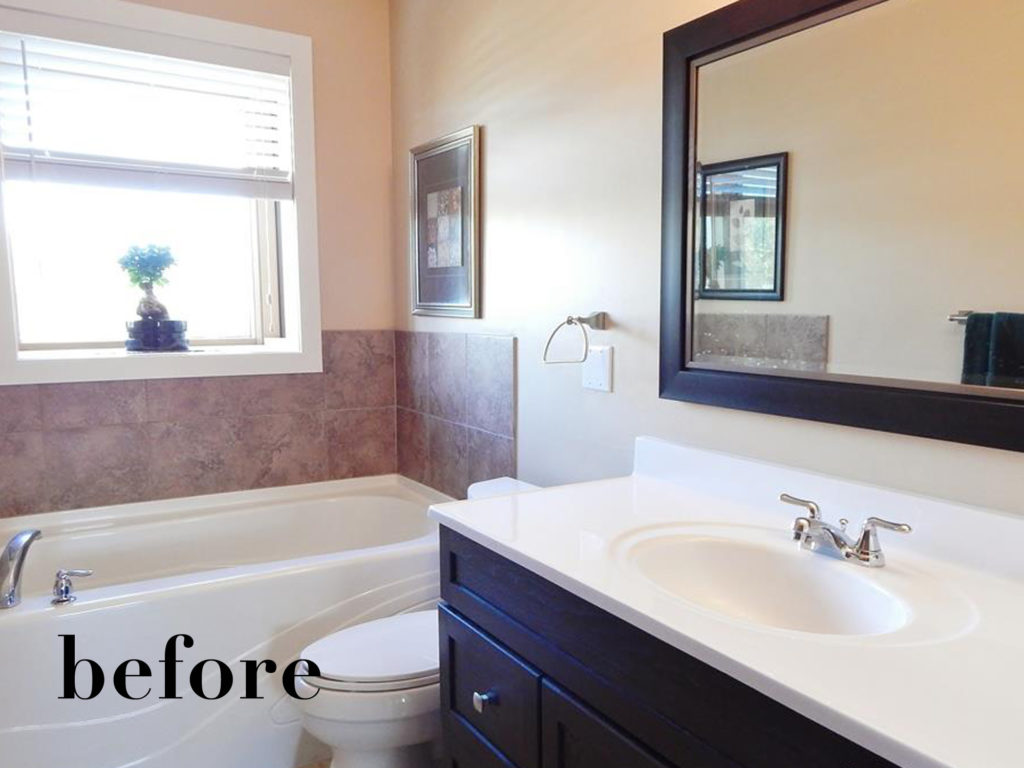 We were able to steal space for our new walk-in shower from an neighbouring closet and bedroom but it did require installing a new smaller window in that bedroom. So in the middle of January we tore a hole in the side of our new house and with the help of a friend put in a new narrower yet taller triple pane window so we lost as little light as possible. Out of that bedroom we were also able to carve space out to place a stacking washer dryer, a nice little luxury to not have to share with the basement tenant.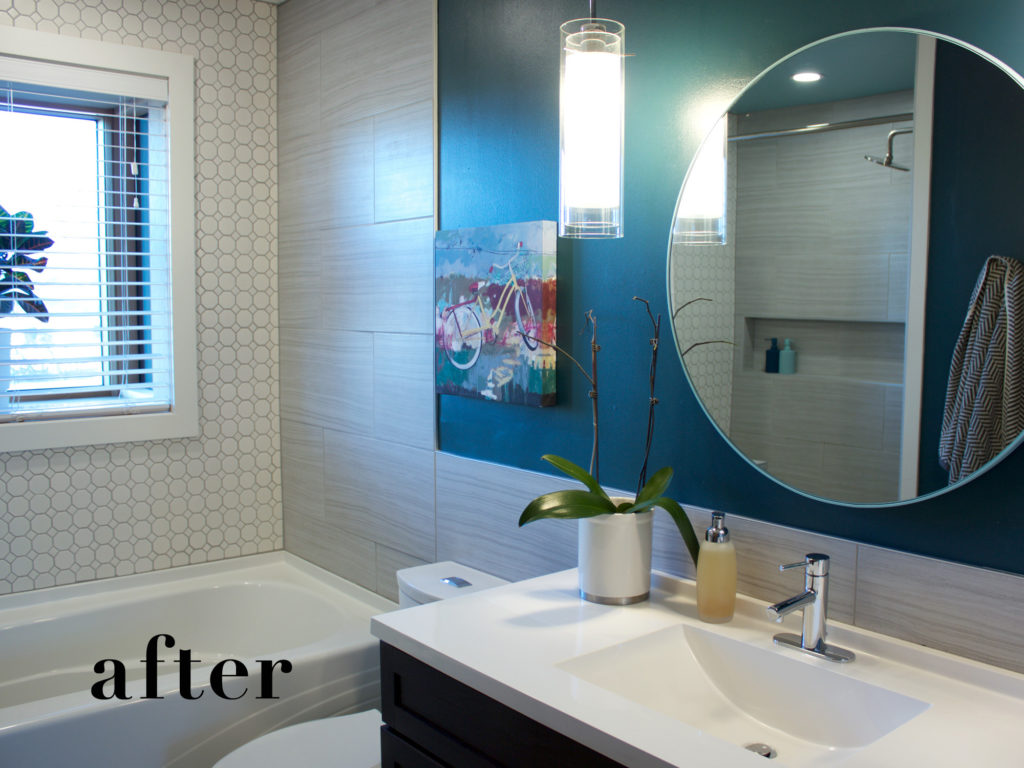 Since we were both new to plumbing we hired a pro to install the water and waste lines for both the shower and laundry and installed the shower pan and walls ourselves by using Wedi. For those who don't know Wedi makes a shower kit that was quick easy and watertight, it was best option for our skill level and was well worth the slightly larger cost.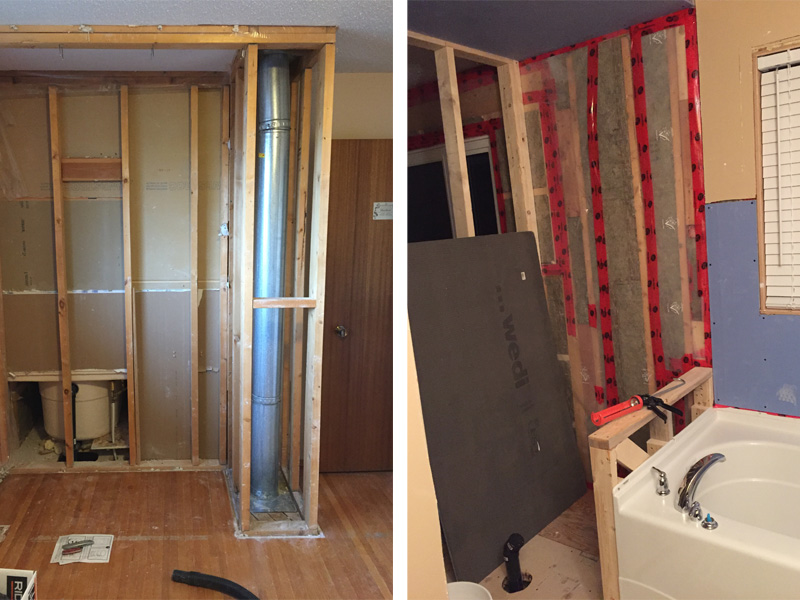 Picking the tiles and finishes was not exactly the easy part, as I imagined. We were working with the original vanity which had a transitional style and a dark black brown colour but I wanted the tiles to be timeless with mass appeal. I decided on a white grey palette with lots of visual texture, so that meant variation of scale, style and colour. On the back wall of the bathroom and the shower floor we went with a smallish octagon mosaic and used a large 12×24 grey tile with a slight striation on the rest of the shower walls and behind the toilet & vanity. Picking a floor tile to work with these was difficult both visually and financially so we ended up having to spend a little more than I was hoping and picked out a medium format hex with a staggered pattern, almost reminiscent of fabric. I think the hex added that little bit of personality to the bathroom without being super dominant.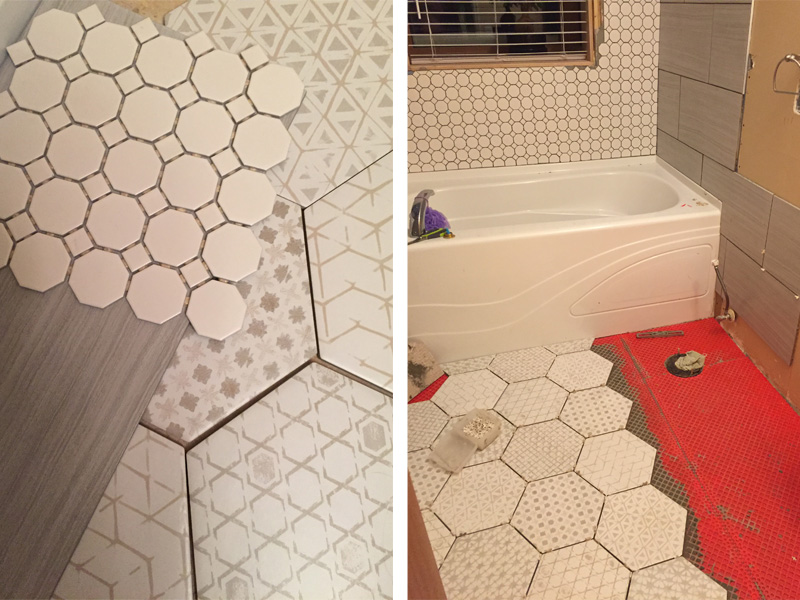 Tiling the bathroom was a feat! We installed tile on at least 50% of the room and decided to do fun little upgrades like a 4 foot long shower niche which proved to be difficult with the less than square grey tile. Thankfully my dad was able to come help, and talk me down before I broke things out of frustration!

Once we had all the tiles installed the bathroom was lacking drama and decided a dark wall colour would give more contrast and help ground the vanity. I often joke with my boyfriend that Teal is the colour of my soul but it's not joke I think I bleed Teal! So of course I choose a nice deep rich jewel coloured teal to contrast the light grey and whites.

All the straight repeated geometric forms of the tiles called for a bit of curvilinear and we opted for a largish circle mirror. We installed pot lights in the shower and above the bath and changed the typical above mirror vanity light to two pendants on either side of the mirror at face height as it's the most flattering. I choose very simple tube shaped budget conscious pendants as they are the easiest thing to switch out later. We replaced the vanity top with a simple white solid surface from a big box store and upgraded the taps to something simple, geometric and modern in a chrome finish.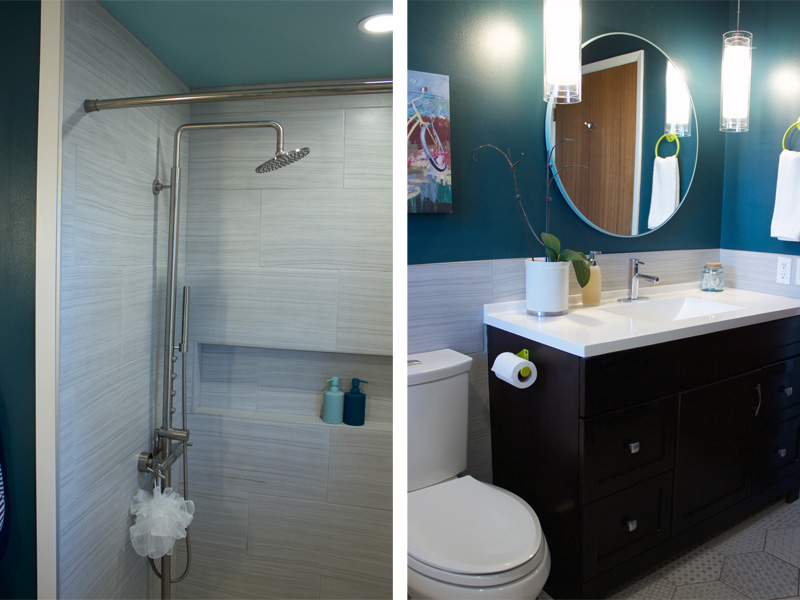 All and all I am really pleased with our transformation of beige box into a small spa with personality. After the upstairs bath was complete it meant we could demo the downstairs bath and start building the skeleton of our basement suite.