Walls | Doors | Windows
I am having trouble writing this post. I seem to have come to some sort of writer's block and can't seem to articulate what we did. Maybe because now I'm writing about my space. The basement had a layer of detachment to it because it always was for someone else. Although upstairs is not my forever home, I went a little more bold and "me" with the choices and therefore I think I'm scared to actually put them out in the world. Not that I'm scared people won't like them, I'm more scared they will be indifferent to them. They will look at something I slaved over for months, literally putting my blood sweat and tears in and will say, "oh I guess it looks nice" and move on completely. I don't know if i"m looking for a gold star but I'd like a little fanfare. Is that too much to expect, or is that a sign I need to do more work on myself so my interior mindset is not so wrapped up in what others think of what I've done … I should meditate on that one! Well here it goes, push past the block!

Now that we had mostly finished the basement portion of the reno it was time to focus on ourselves. The top floor had all the lovely hallmarks of an outdated 60's bungalow. Small bedrooms, no connection to the backyard, & a tiny isolated kitchen. The plan for the upstairs reno was to addressed all these and change the flow and make the house feel more open and modern.

The first task was removing a couple of walls both in the public and private spaces of the home. We took two bedrooms and combined them into one larger room, creating a spacious feeling master bedroom with a small walkin closet. I know they tell you to never change a three bedroom house to a two bedroom but with the addition of the extra bedroom downstairs on paper we still have four bedrooms in the entire house (even if it is technically only two bedrooms per suite!). It's a decision I stand behind. Not only did we get to move the master to the back of the house and get all the lovely morning sun but we got a room that feels livable, rather than two tight little boxes.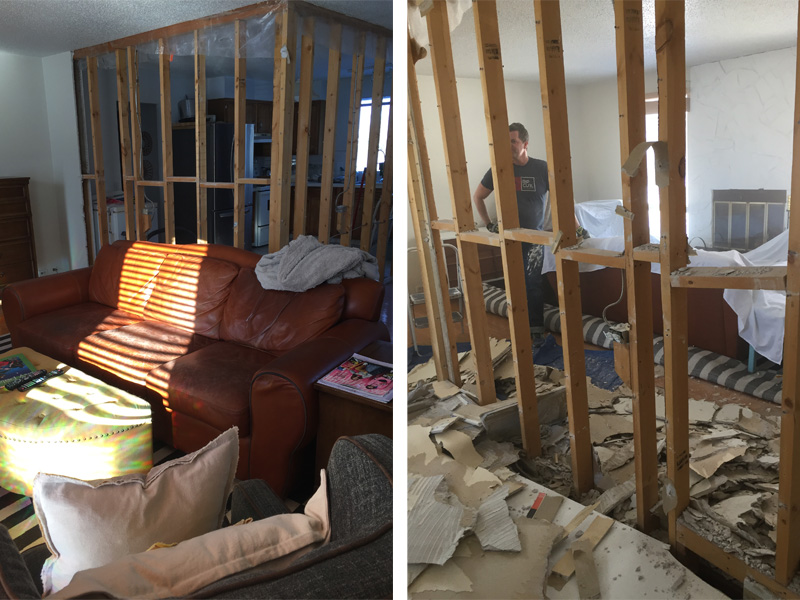 In the public portion of the house we basically tore down all the walls … really only two, but it opened up the space completely! With the dining living and kitchen open to each other we created as great of a great room as you can get in a 1150 SQ FT bungalow. The light now streams in at all times of the day and we can feel connected to guests and ourselves while we preparing diner. Of everything we did I think this had the biggest and best impact on the house.

I decided that although the walls were going and open concept was the goal, that we could still incorporate two posts into the layout, rather than pay thousands and thousands of dollars to install a 20 FT beam. I know people seem to have real problems with posts, and yes sometimes they need to go, but in this case we took a problem and made it a feature. We incorporated the post into the edges of the island, giving it a stronger presence and the feeling of custom mill work.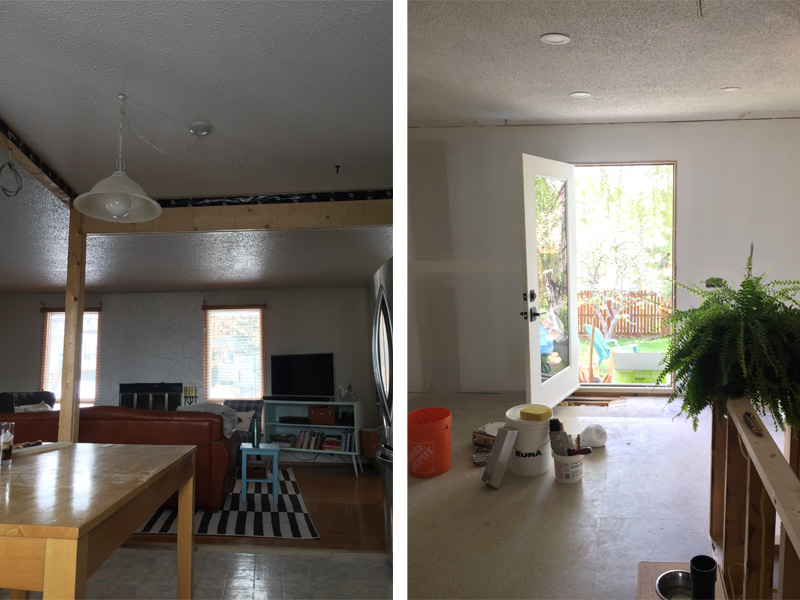 Now that the house was open inside we wanted to have it feel connected to the outside as well. We decided that replacing the old kitchen window with a door was the best way to give us indoor/outdoor living and privacy from our tenants. Not an easy feat, as it required us to relocate the kitchen sink plumbing and build a landing deck outside, but the payoff was huge. Now we don't feel disconnected from the outdoors and have easy access to our bbq, a key cooking appliance in our household.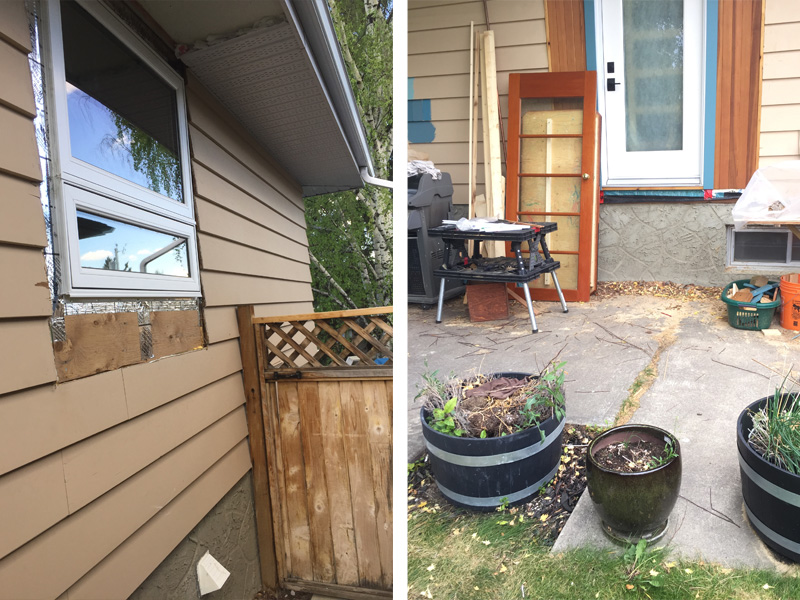 Since we were already tearing down a lot of drywall with the wall removals and we had seen what a big impact to drafts and noise the triple pane windows made, we decided to replace all the windows in the house. We could have hired pros (it would have been the faster option :P) but the budget was tight, I knew everything is figureoutable, and we already had installed three windows (albeit with the help of friends who wouldn't be there to help us again 🙁 ). In the grand scheme of things, installing windows was a pretty easy job. Once you became comfortable with the fact you cut a giant hole in your house it was just a matter of basic framing and waterproofing.

Now that we had the floor plan opened up it was time to tackle the kitchen! The biggest and most important part of our reno which I'll talk about in the next two posts. But for now a sneak peek of the mood board.